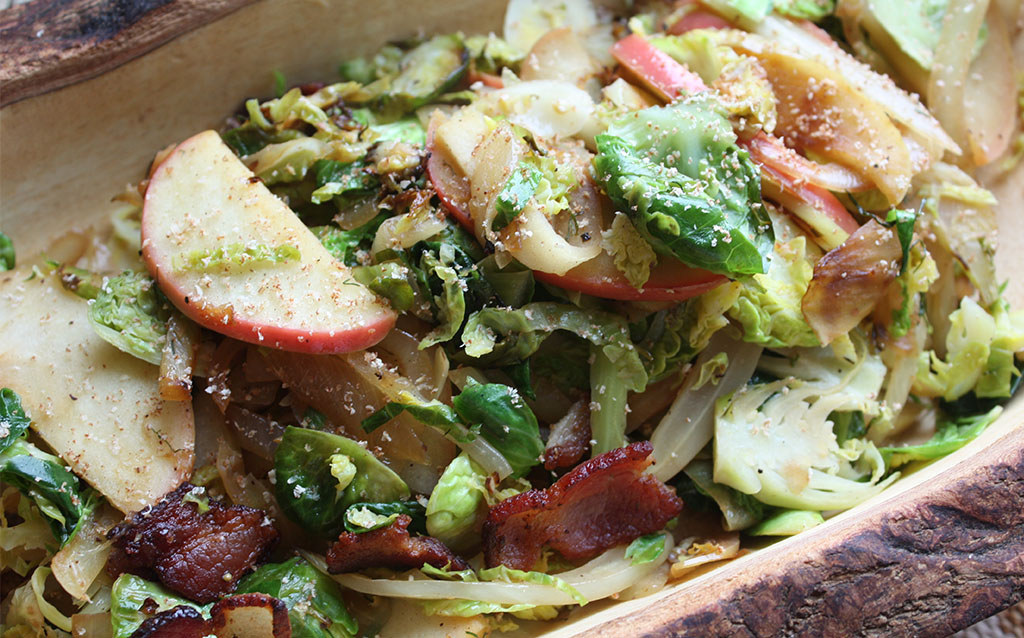 Shredded Brussel Sprouts & Pink Lady® Apple
September 12, 2017
A glorious medley of golden shredded brussel sprouts sauteed with fennel and fresh nutmeg. Caramelized onions with smoky apple bacon and sweet Pink Lady® Apple slices brings all the flavors home. Not one for brussel sprouts? These savory golden crusted sprouts browned in smoky bacon fat is sure to change anyone. Add a poached egg for a upscale treat. This one pan meal is great for the week days, tastes amazing the next day and is great for packing lunches. Serve family style for main course or pair with our Pink Lady® Sage and Butternut Apple Bisque for a hearty meal. Double recipe and freeze for weekends on the go.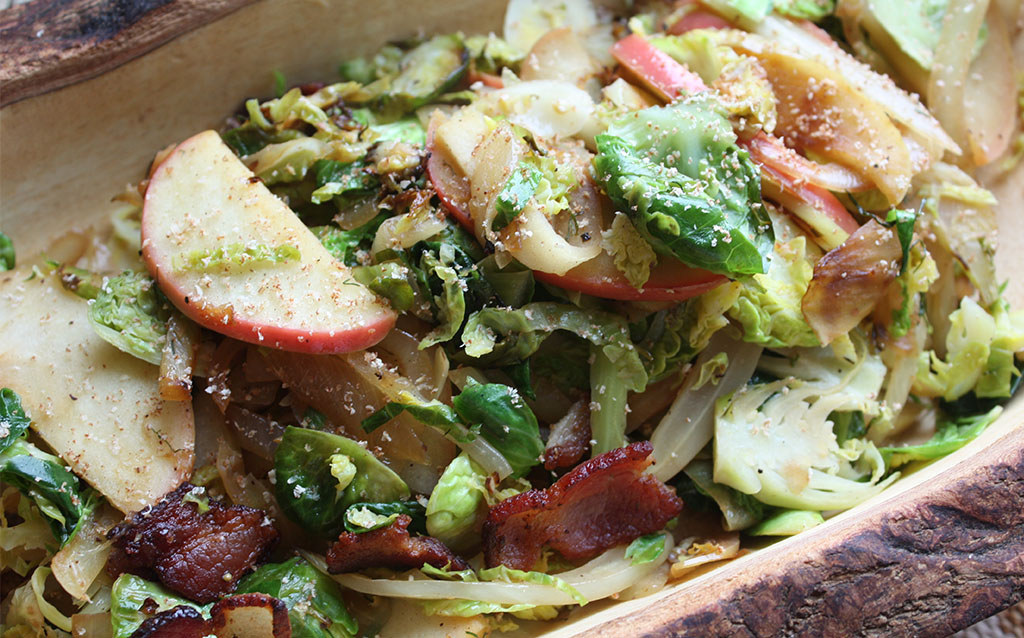 Ingredients
6 oz. or 4 strips of thick apple smoked bacon, cut in half inch chunks
2 Pink Lady® apples, medium sized, sliced thinly
1 large fennel bulb, sliced thinly
1 fennel fronds from bulb, chopped
1/2 lb brussel sprouts, shredded thinly
1 1/2 tsp nutmeg seed, freshly grated +extra for garnish
Directions
1In a large glass bowl, add thinly sliced apple and lemon juice. Put aside and slice up all other ingredients.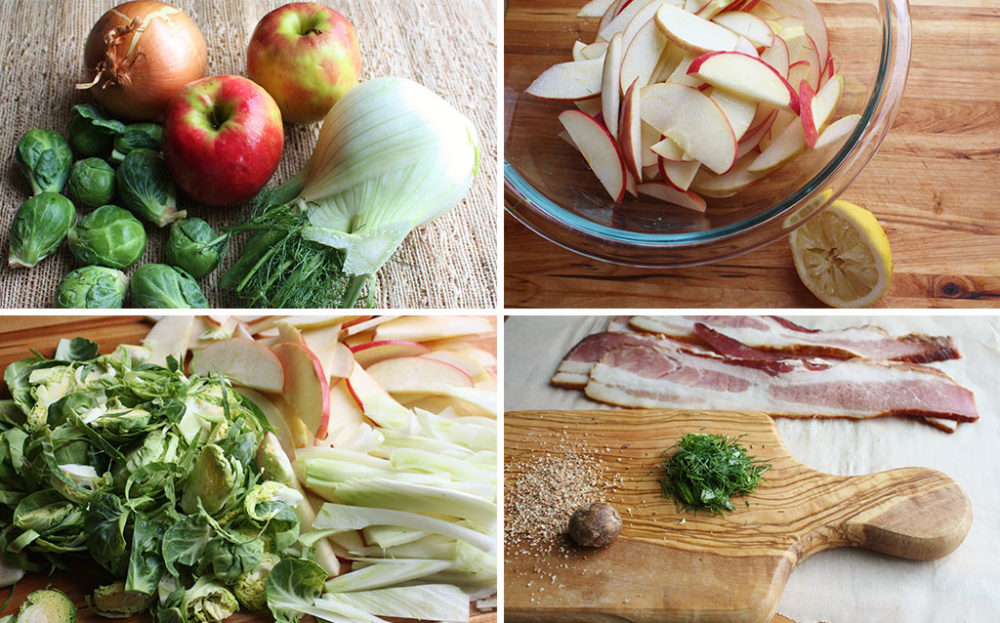 2Shred brussel sprouts by chopping off each end of the sprout and thinly slicing it from the top to the bottom multiple times.
3In a large cast iron pan on medium heat, cut bacon chunks with scissors into pan. Cook for 5-8 minutes until almost golden brown. Take out of pan and set aside.
4In the same hot cast iron pan, add thinly sliced onions and saute in bacon fat until light golden brown. Add apple slices and continue to saute for 4 minutes until lightly browned as well. Remove onion and apple slices out of pan, place aside on another plate. Add fennel slices into pan and saute for 5 minutes. Add olive oil if moisture is needed depending on bacon fat in pan.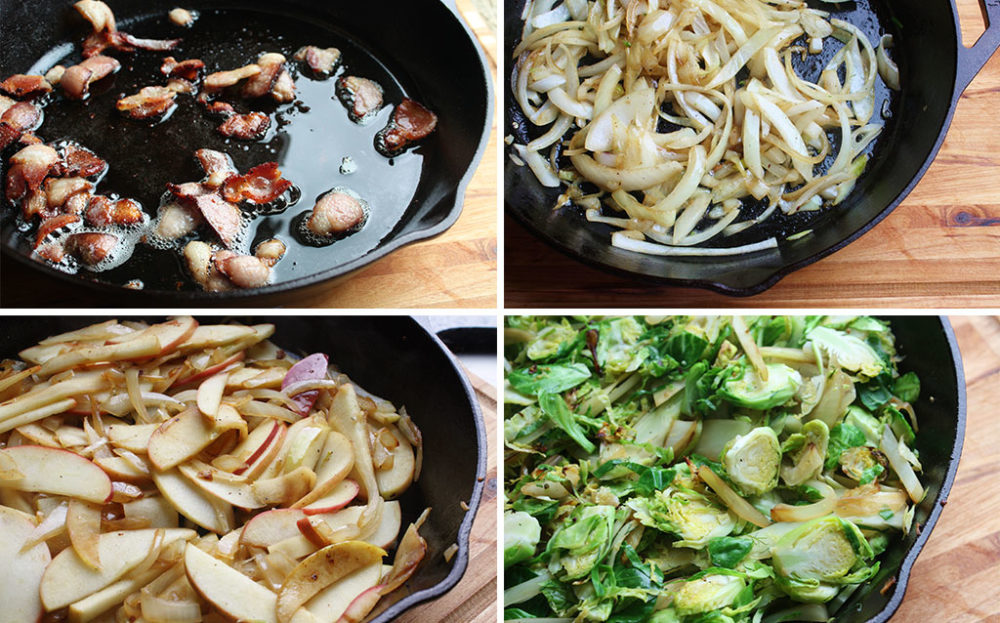 5Pour shredded brussel sprouts on top of the fennel and continue to saute until roasted brown, 6 to 7 minutes. Grind some fresh sea salt and rainbow pepper or regular black pepper on veggies. Lower heat and add back in, apples and onions. Mix and add bacon chunks.
6When tossed completely, grate some fresh nutmeg all over the medley. Plate family style in one serving dish or individual plates with bowls of soup. Fresh ground pepper and nutmeg as garnish.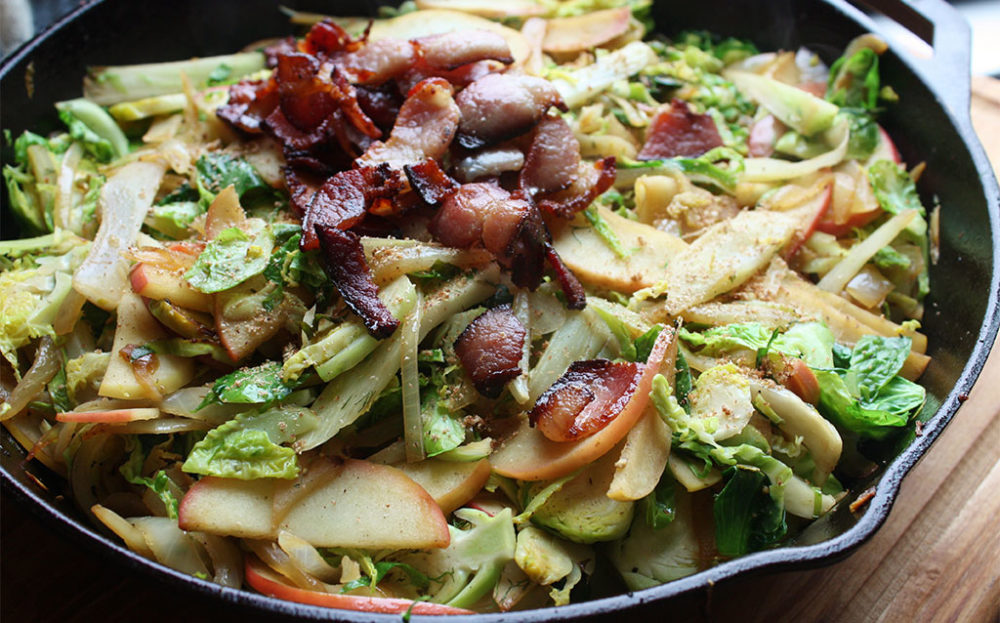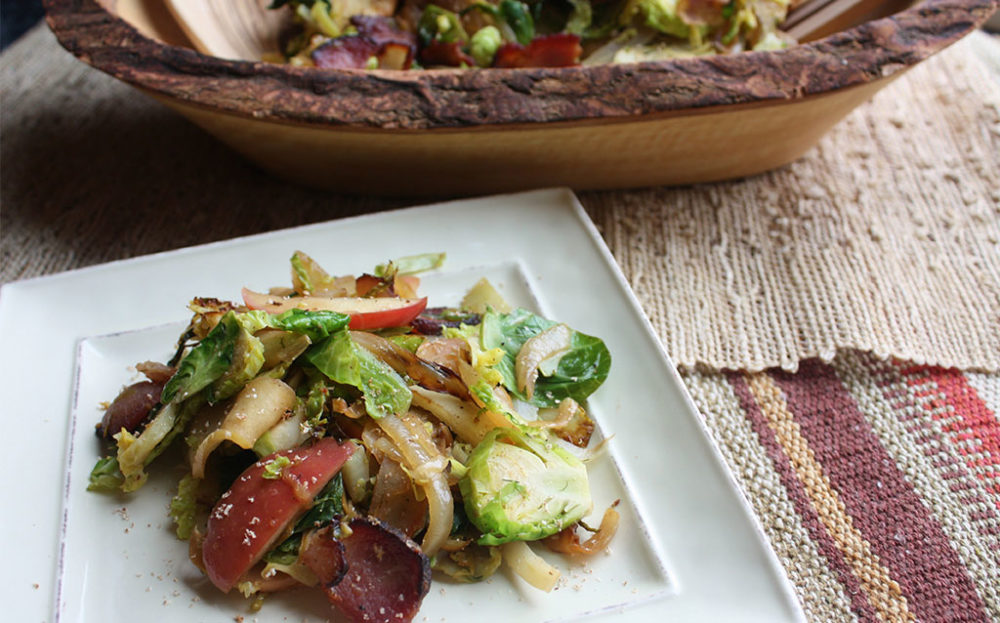 Recipe & Photography done by Megan Ameral