Cosmic Crisp® Taste Profile
The Cosmic Crisp® apple is remarkably crisp, sweet, sharp, tangy, and unbelievably juicy. As a cross between 'Enterprise' and 'Honeycrisp' apple varieties, it has a firm and crisp texture. This apple is terrific for eating out of hand, with ample sweetness and tartness. Its flesh does not brown easily, and the flavor and texture is maintained even through storage.
People ask, "Are Cosmic Crisp® GMO?"  The answer is, "No, they are not."
The Cosmic Crisp® was classically bred by the WSU Tree Fruit Program and is non-GMO.  Bruce Barritt and Kate Evans, who led the tree fruit breeding program at WSU, spent over 20 years ensuring the Cosmic Crisp® would be naturally developed into a beautiful, tasty, and non-GMO apple.  We hope you take a moment to read more about it. 
Cosmic Crisp® Industry Guide
Members of the Washington Apple Industry and our International Partners are invited to sign up for the Cosmic Crisp® Industry Guide. We've placed all the quality standards, packaging requirements, research, news, and more in one easy-to-use location. This site is exclusively for the industry. You will need to create an account to gain access to the website.
Licensed Providers
The links below will provide you with names of companies who are licensed participants in the Cosmic Crisp® program. 
Importing Cosmic Crisp®
A company that wishes to import Cosmic Crisp® WA 38 cv. apples from another country must hold a valid Import License issued by the commercialization company. 
The Import License communicates the proper usage of the trademark in commerce and establishes an agreement that the company will respect those conditions and endeavor to protect the trademark rights of the owner and stakeholders. Import Licenses are valid for the term of a crop year and must be renewed annually.

What people are saying:
"It's a really good eating apple, very crisp and juicy."
"I would not describe this as an eating apple, but rather an experience!"
"No question, Cosmic Crisp® is my new favorite apple"
Discover More about Cosmic Crisp®
1998-2000
Seeds were germinated and raised in a greenhouse in 1998 at the Washington State University (WSU) Tree Fruit Research and Extension Center, Wenatchee. The seedling was transferred to a collaborating commercial nursery in May 1998 where it grew until Sept. 1999, when it was budded onto M.9 rootstock.
2001-2004
The resulting tree was planted in the Phase 1 seedling evaluation orchard CV12 at WSU's Columbia View orchard (row 16B, position 75) in Apr. 2001. Fruit from this original budded tree was evaluated in 2002 and 2003. Based on fruit quality, 'WA 38' was selected and advanced to Phase 2 evaluation in Oct. 2003. Buds were taken from the seedling tree and propagated onto M.9 rootstock in Sept. 2004.
2005-2008
Five trees were planted at each of three Phase 2 sites in central Washington in Apr. 2006. Additional trees were budded in 2006 onto M.9 rootstocks for larger scale Phase 3 plantings in 2008 at four commercial orchard sites in central Washington. 'WA 38' was virus-tested and certified material was budded onto virus-indexed vigorous rootstocks at nurseries for the production of State certified propagation material.
Since 2008, trees have been grown in four locations across Washington and evaluated for horticultural traits and storage behavior by Washington Tree Fruit Research Commission scientists Tom Auvil and Dr. Ines Hanrahan and WSU apple breeder Dr. Kate Evans, with the help of an industry advisory group.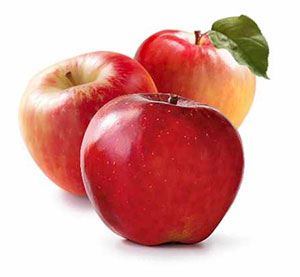 Naming the apple involved several meetings with focus groups around the state with sessions in Pullman, Yakima and Seattle. The "Cosmic" factor in the name was developed because of the "striking" lenticels on the apple surface. Those little spots look like starbursts to some and consumers are believed to be drawn to names relating to outer space and the cosmos. One of the outstanding attributes of the variety is its crisp texture. "Crisp" also links to its parent, 'Honeycrisp'.
Cosmic Crisp® reporting and fruit production royalty
The Idyia™ database system is used to manage all commercial aspects of the variety. This includes details regarding growers, nurseries, packers, marketers, exporters, and importers. Through a system of licenses, it tracks tree sales, orchard locations, fruit production, and commercial sales.
By signing the Grower License, every grower has agreed that the Packer will retain all fruit production plant patent royalties from crop proceeds and will pay these royalties out on behalf of the grower to PVM as the licensed agent for the variety owner, Washington State University.
To meet their reporting obligation, Packers are required to upload their sales into the Idyia™ database quarterly on the following schedule:   November 15, February 15, May 15, August 15.  All reporting for a crop year must be finalized by January 1 following the end of the crop cycle. For example, 2019 crop year reporting is due on or before January 1 of 2021.
Packers will report the FOB sale price, net of any customary marketing fees and charges, but before any packing charges are deducted. Royalty must be paid on any 40 lb box equivalent sold at $20.00 or more.  Where a Packer utilizes pooling, the average FOB price for each size and grade as stated in the grower return will establish the price upon which the production royalty will be calculated.
If a shipment is subject to rejection or claim at destination, the royalty is to be paid on the adjusted sales price, provided the return is $20.00 or greater.
To assist with tracking and validation, reporting is processed by Grower ID which is tied to a Grower License.  The Grower ID should identify an orchard or block.  A reporting record includes Grower ID/Variety/Grade/Size/Package Type/Quantity/FOB Price.  the royalty is calculated from the total price of each line, multiplied by 4.75%
More information can be found on the Cosmic Crisp® industry site or on the Idyia™ database system
Sale of land containing WA 38 cv. apple trees
Per the Non-Exclusive Grower Agreement for the WA 38 apple variety, section 8, titled Assignment Restrictions, a Grower must contact the propagation manager, Northwest Nursery Improvement Institute (NNII), 60 days prior to the transfer or sale of land.
The contact for NNII is: Bill Howell    nwnurseryii@gmail.com
NNII will inform the variety manager, Proprietary Variety Management (PVM), of the reported transfer or sale of land.
 A PVM Staff member will reach out to you concerning the transfer and will request the following information:
 The name and license number of the Non-Exclusive Grower Agreement currently in place for the property that is subject to transfer or sale.
The name of the new individual/entity of the land in discussion (Note: this would be the name that is used in conjunction with the warehouse where the fruit is being packed)
The name and contact details for the new owner or representative
The original license will become null and void and a new license will be issued to the recipient of the transfer or purchase.  The new license becomes valid upon receipt of a signed copy of the new license at PVM.  The signature is required to ensure compliance with all terms. 
Cosmic Crisp® for the Home Gardener
Are you a backyard orchardist interested in growing Cosmic Crisp®?  Please note – at this time Cosmic Crisp® is exclusive to Washington State for all of North America. Therefore, you must reside in Washington State to plant a WA38 tree.
 If you live in Washington State and wish to make a small-quantity tree purchase, please inquire with one of the nurseries below: