The Brandt family traces its roots back more than eight decades. This means that Brandt's Fruit Trees has a solid foundation of experience in planting, growing, and handling fruit trees. We understand the grower's needs and can help decipher what the future will bring to the fruit industry.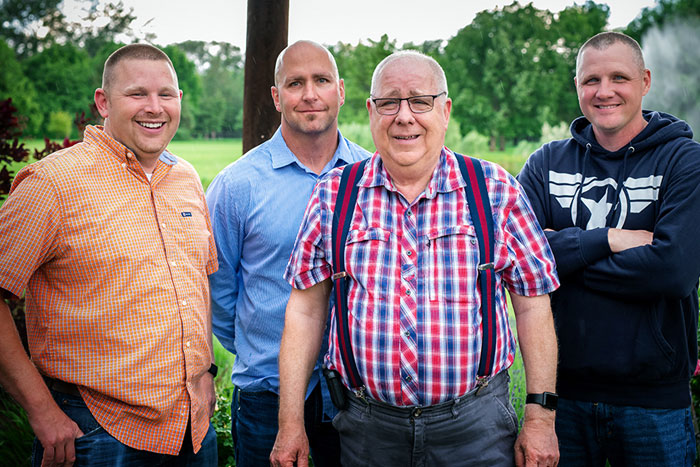 Kevin, Tyler, Lynnell, Ryan
Our staff at Brandt's Fruit Trees has experience and knowledge in growing, packing, and marketing fruit and fruit trees to meet the needs of the grower and fruit buyer. We are the Company growers like to do business with year after year due to our high-quality products and our responsive and professional customer service. We work hard to remain ahead of the industry with new and innovative fruit varieties by working in conjunction with top breeders and Universities throughout the world.
Our chosen varieties are propagated in one of the lushest growing regions in the world for nursery stock: the Willamette Valley of Oregon. We locate our orchards here because the deep soil is fertile and well suited to the production of nursery stock, and the mild climate translates into a long growing season. These combined factors not only improve stock quality and size but allows us to harvest our trees after they go dormant naturally, without the use of defoliants. Growing trees in the Willamette Valley allows us to keep the trees in the ground through the winter, unlike many nurseries who are forced to dig their trees in the fall and hold them in storage until spring planting, in order to avoid freeze damage. Our trees are kept in storage for a maximum of three months, minimizing the risk of damage and dehydration.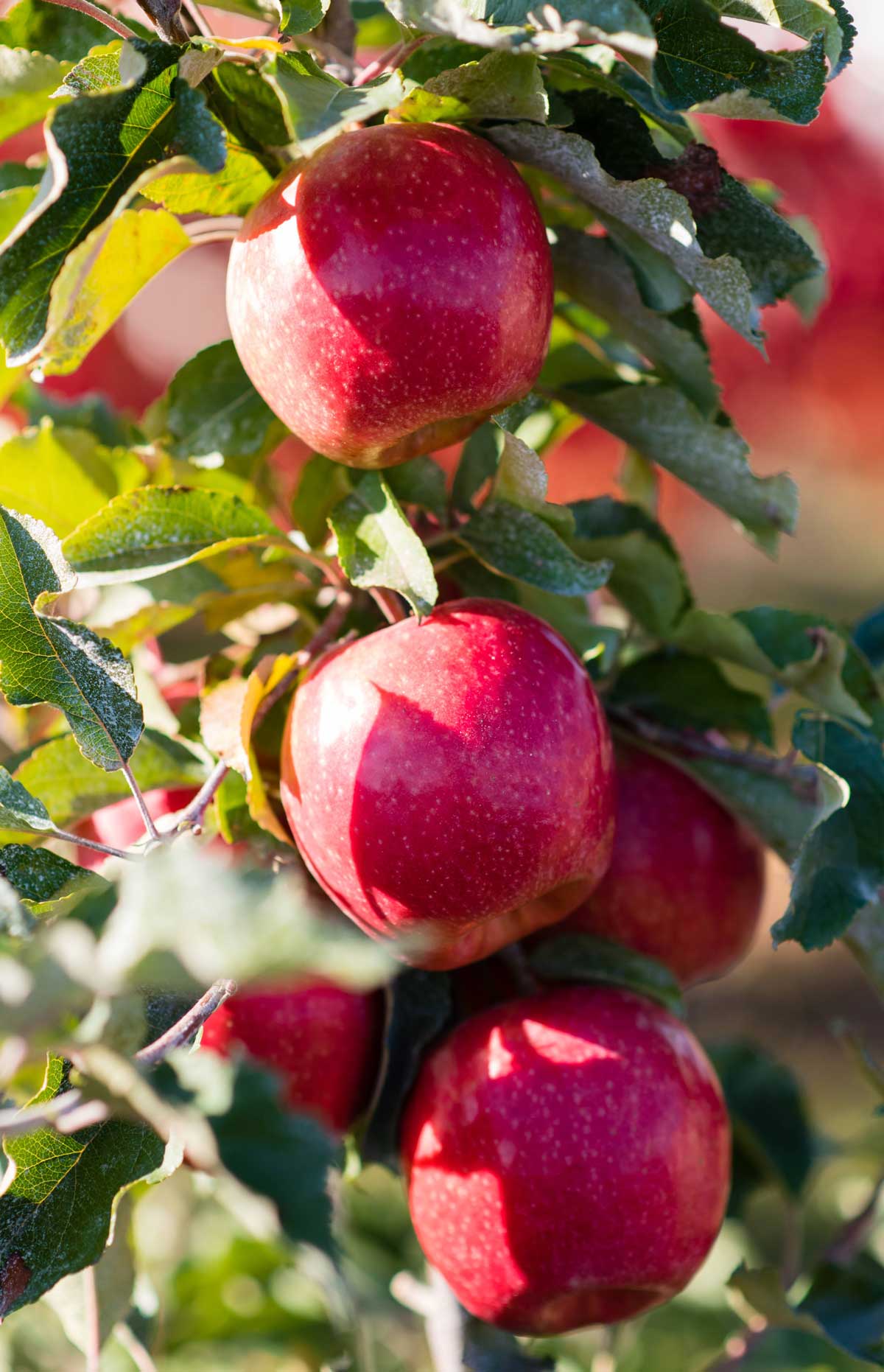 Brandt's Fruit Trees works closely with a number of breeding programs and individuals in order to deliver some of the most interesting and diverse selections the world has to offer. As a founding member of the Associated International Group of Nurseries (AIGN®), we have ongoing access to many exciting varieties. AIGN® is the only group of its kind in the nursery business. Founded over 30 years ago, AIGN® prides itself on intellectual property management. Brandt's Fruit Trees represents AIGN® throughout North America, working to support the diverse industries across the continent supporting both the breeder and the grower.
Brandt's Fruit Trees is also a member of the Northwest Nursery Improvement Institute (NNII). An organization currently consisting of 13 member nurseries, NNII works to assist the tree fruit nursery in product development. Among other things, NNII supports and conducts research that is shared with the fruit growing industry and works to protect intellectual property (IP).
Brandt's Fruit Trees remains committed to the success of the entire industry.
Signup for our Newsletter
Brandt's Fruit Trees along with our sister company, PVM, have made it our mission to offer new and exciting tree fruit options for our customers to grow. As a member of AIGN® representing North America, BFT is part of a network of tree nurseries and commercialization companies that have relationships with fruit breeding programs and trademark owners around the world. We are pleased to offer the following managed cultivars to growers in North America. Contact our nursery staff for more information.

| Brand Name | Cultivar | Species |
| --- | --- | --- |
| Cosmic Crisp® | WA 38 cv. | Apple |
| Crimson® Gala | Waliser cv. | Apple |
| Crimson® Gala | Alvina cv. | Apple |
| Crimson® Gold | Svatava cv. | Apple |
| Crimson® Jonagold | Marnica cv. | Apple |
| Crimson® Topaz | UEB-2359/2 cv. | Apple |
| Dotty™ | TC5 cv. | Apple |
| Fuji Supreme™ | CABp Fuji cv. | Apple |
| Galarina™ | X-4982 cv. | Apple |
| Heliodor™ | UEB 3264/1 cv. | Apple |
| Les Naturianes® | Ariane cv. | Apple |
| Lucy™ Gem | TC7 cv. | Apple |
| Lucy™ Glo | TC3 cv. | Apple |
| Lucy™ Rose | TC2 cv. | Apple |
| Magic Star™ | WUR200 cv. | Apple |
| Marysa™ | PA6UNIBO cv. | Apple |
| Morning Mist® | Fugachee cv. | Apple |
| Northern Glo™ | GF015 cv. | Apple |
| Pink Lady® | PLBAR B1 (Barnsby) cv. | Apple |
| Pink Lady® | Ruby Pink cv. | Apple |
| Pink Lady® | Cripps Pink cv. | Apple |
| Querina™ | Florina cv. | Apple |
| Royal Crimson® Topaz | UEB-2359/2A cv. | Apple |
| Story® | Inored cv. | Apple |
| Sundowner® | Cripps II cv. | Apple |
| Sunrise Magic® | WA 2 cv. | Apple |
| Sweetie™ | PremA280 cv. | Apple |
| | Temptation cv. | Apple |
| Mt. Blanc™ | X-6114 cv. | Crab Apple |
| Mt. Evereste™ | X-2369 | Crab Apple |
| Nic® | RN No. 29 cv. | Apple Rootstock |
| Nic® | RN No. 19 cv. | Apple Rootstock |
| Nic® | RN No. 8 cv. | Apple Rootstock |
| AC™ Harrow Gold | HW616 cv. | Pear |
| AC™ Haroblush | HW441 cv. | Pear |
| AC™ Harojoy | HW446 cv. | Pear |
| AC™ Harostar | HW436 cv. | Pear |
| AC™ Harrow Crisp | HW610 cv. | Pear |
| AC™ Harrow Sweet | HW609 cv. | Pear |
| Cape Fire™ | DPP1 cv. | Pear |
| Cold Snap® | HW614 cv. | Pear |
| Kiiro™ | PremP099 | Pear |
| Peardigm™ | PremP003 cv. | Pear |
| Reddy Robin® | PremP109 cv. | Pear |
| Aristocot™ | Series of cultivars | Stone Fruit |
| Garnet Girl™ | V84031 | Stone Fruit |
| Platty™ | Series of cultivars | Stone Fruit |
| Sweet Velvet® | Areko cv. | Stone Fruit |
| Maxma® | MxM 14 cv. | Cherry Rootstock |
| Maxma® | MxM 60 cv. | Cherry Rootstock |
Ceny Martinez, Sales, Inventory & Administrative Support
se habla Español