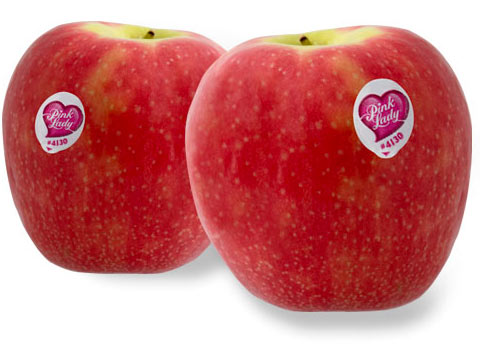 Pink Lady America
The first branded apple in the United States
On May 28, 1996, Brandt's Fruit Trees, Inc. was given registration in the United States for the trade name Pink Lady® and therefore made history by introducing the first branded apple in the produce industry.
In the year 1999, Brandt's Fruit Trees, Inc. found it appropriate to grant Pink Lady USA, LLC (later to become Pink Lady America, LLC) the exclusive rights to use the Pink Lady® trademark and logo with promotional and advertising products. Such licensing was necessary due to the increased demand for Pink Lady® branded apples and secondary products such as juice, apple chips, and apple slices. In addition, Pink Lady America assists with the administration of import and export licenses for Pink Lady® branded products.
The Pink Lady® trade name was originally developed and implemented to use with the Cripps Pink cv.  Now the trade name covers a number of selections that originated from the Cripps Pink cv. that have passed the test of the brand promise and met the rigorous standards required to use the Pink Lady® name. The selections include:
Cripps Pink cv. (the original and the improved selection known as Rosy Glow outside of the U.S.)
Ruby Pink cv.
PLMAS98 (Maslin) cv.
PLBARB1 (Barnsby) cv.
PLFOG99 (Pinkebelle) cv.
Today, the Pink Lady® brand has become an international favorite and is sold in thousands of retail food stores. Pink Lady® brand sales and market share are monitored, and public outreach has become part of the brand strategy. Through consumer surveys and focus groups, Pink Lady America was able to determine Pink Lady®'s brand dominance in the market over the varietal name Cripps Pink. In fact, our survey showed that 82.6% of people in the U.S. would rather buy Pink Lady® brand apples over Cripps Pink.
In December of 2019, Pink Lady America and Apple and Pear Australia Limited (APAL) announced a new commercial agreement between the parties to jointly build trade between the US/Mexico and the broader global Pink Lady® network.  The agreement establishes APAL as the exclusive Master Licensee for trade to and from the US and Mexico, and as the Manager, Administrator and Licensor of all commercial activities.  Pink Lady America will continue to administer and manage licenses for exports from the United States to Canada and Mexico.  Lynnell Brandt, president and founder of Pink Lady America, states "this will be beneficial to all stakeholders in the chain, by offering Pink Lady® brand apples to consumers everywhere possible". The new alliance combines the interests, capability, and capacity of Pink Lady America and APAL and provides a wonderful opportunity for the Pink Lady® brand to leverage and build upon its current position as the world's most popular fresh produce brand.
For more information, please see our Questions and Answers page.
Look for these Pink Lady® licensed products in you local store