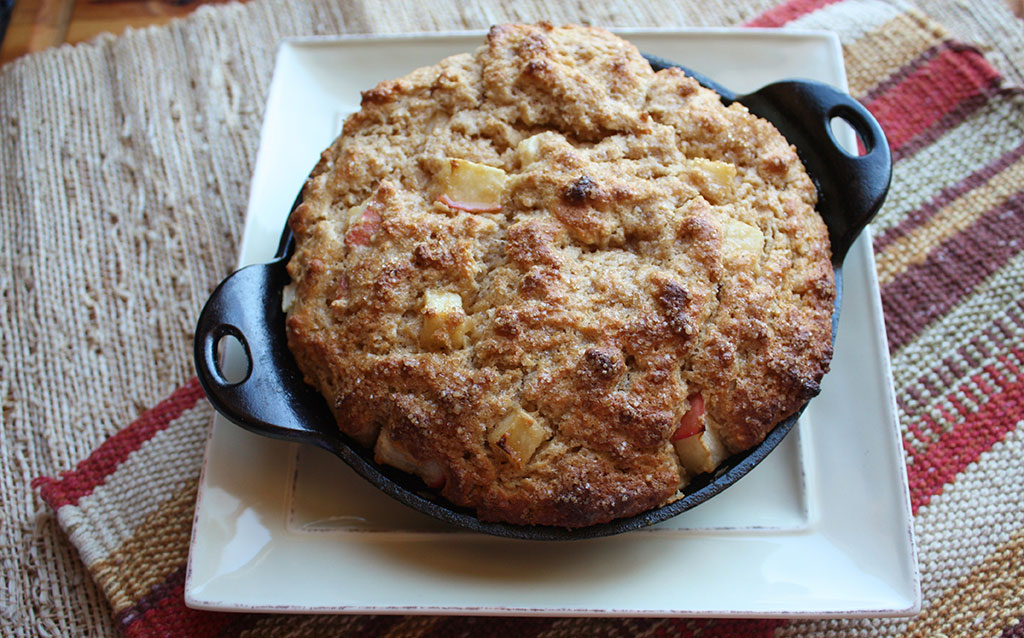 Mini Cast-Iron Pink Lady® Apple Bread
September 12, 2017
An old-fashion rustic dessert that is sure to make any date night special. Warm spices of Saigon cinnamon and fresh ginger. Classic tangy buttermilk with bites of sweet Pink Lady® Apple. Sauteed thinly sliced crisp Pink Lady® Apple in browned butter adds a beautiful richness. Decadent like your favorite apple donut! Whether the bread is served in mini cast iron pans and shared with a loved one or flipped upside down and sliced, this bread is deemed dessert worthy. Whip some fresh cream or your favorite local farm vanilla ice cream.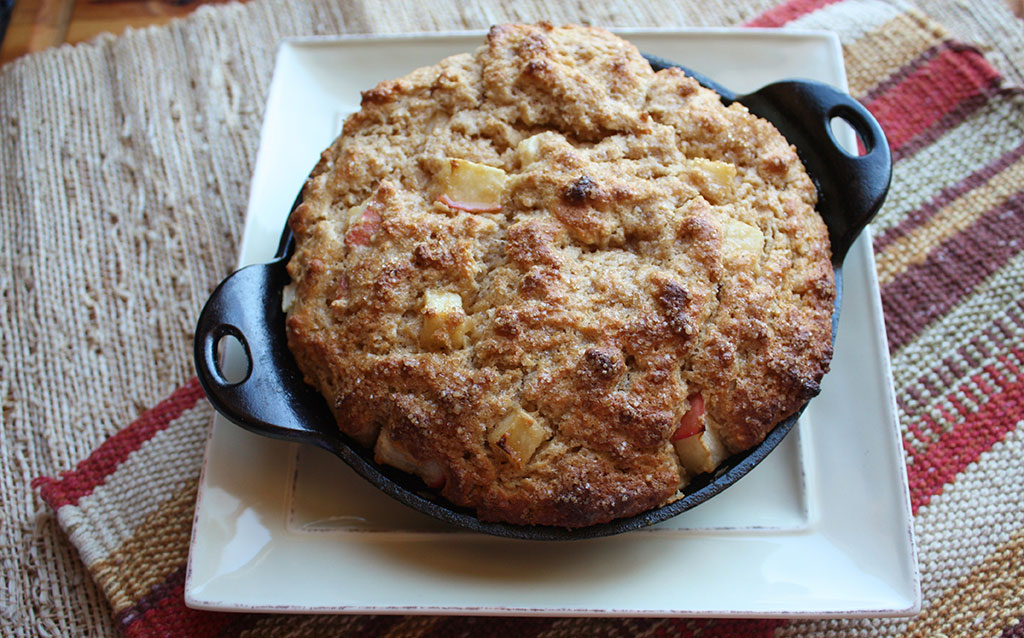 Ingredients
2 medium sized Pink Lady® apples, one and a half apples cubed in 1/4 inch & half apple sliced thinly
2 1/2 cups organic whole wheat pastry flour
1/2 cup organic evaporated cane sugar + 2 tsp sugar for saute
1 tbsp aluminum free baking powder
1 cup & 1 tbsp organic buttermilk
4 tbsp grass-fed cultured unsalted butter (melted completely) +1 tbsp butter for saute
2 tbsp turbinado sugar, large grain sugar
Directions
You will need:
13 cast iron 14oz mini pans
Directions:
1Preheat oven to 400F degrees. Use middle rack and set on bake. While oven is heating, cut one and a half apples in tiny cubes. Thinly slice up the other half of one apple. Place cubed apples in a bowl of freshly juiced lemon to preserve. Place sliced apples on plate till saute.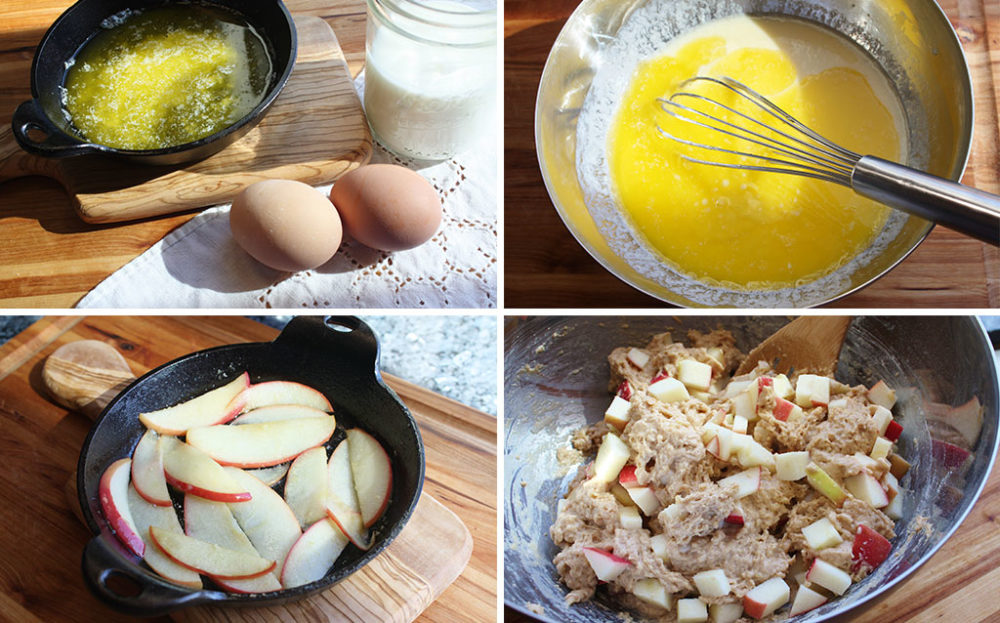 2In large bowl, mix together all dry ingredients - whole wheat flour, cane sugar, cinnamon, sea salt and baking soda.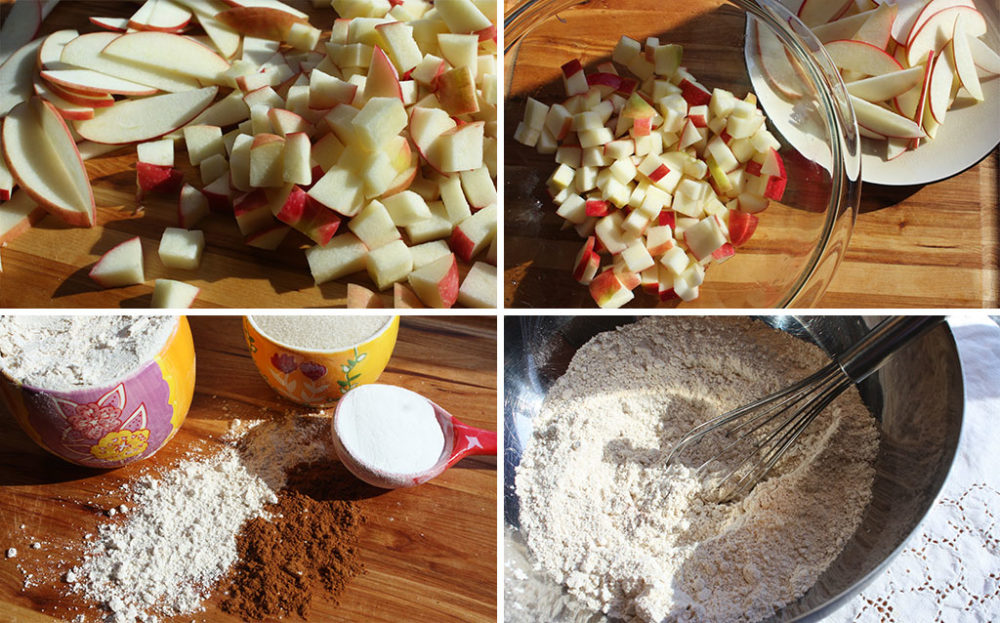 3In another bowl, mix together wet ingredients - eggs, buttermilk and cooled melted butter. Once both have been mixed well, add wet ingredients into dry. Combine but don't over mix.
4Pour cubed apple into a mesh strainer to get rid of excess lemon juice. Add cubed apple into bread batter. Fold but don't over mix.
5In each cast iron mini pan, add pat of reserved 1 tbsp butter and allow to brown on low/medium heat on stove. Watch carefully to avoid burning. When butter is browned, add sliced apples and reserved cane sugar. Grate fresh peeled ginger. Saute until cooked thoroughly and slightly brown on edges of apples.
6Add apple batter into each pan on top of sautéed apples, evenly smooth with wooden spoon. Sprinkle reserved turbinado sugar on top of batter for crunchy finish. Place in heated oven on middle rack and bake for 20-25 minutes. Check after 20 minutes with wooden toothpick. Outside should be cooked with a light golden crust. Inside should almost be cooked. Cast iron will keep cooking even after its taken out of oven. Allow to cool for 5 minutes. With a wooden flat large spoon loosen bread edges. Flip bread over onto a plate upside down and slice for beautiful apple finish. Or serve individual cast iron pans for a rustic family style dessert.
7 Plate with homemade whipped cream or old fashion vanilla ice cream. Devour!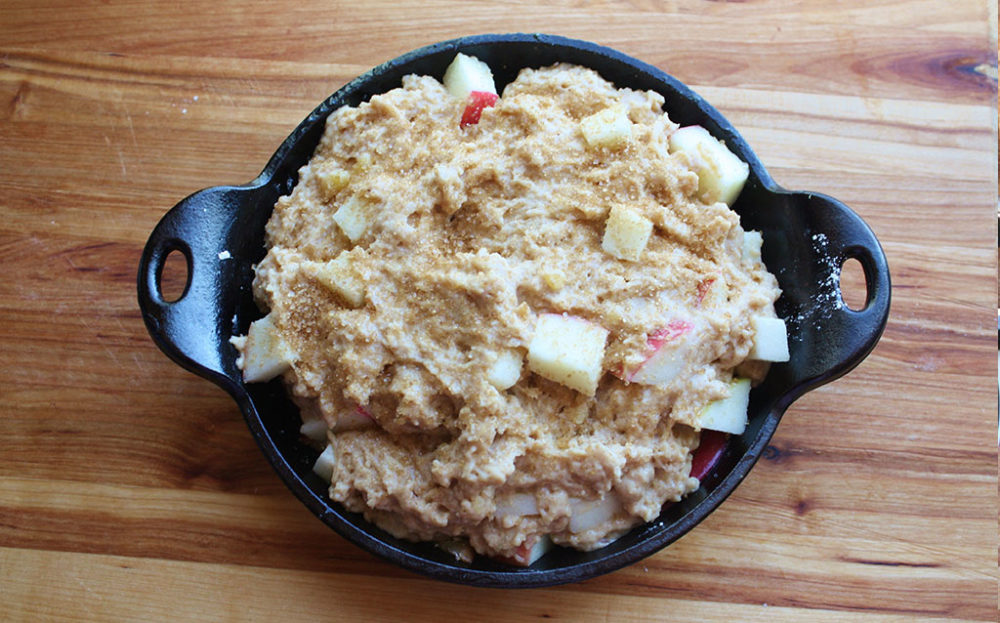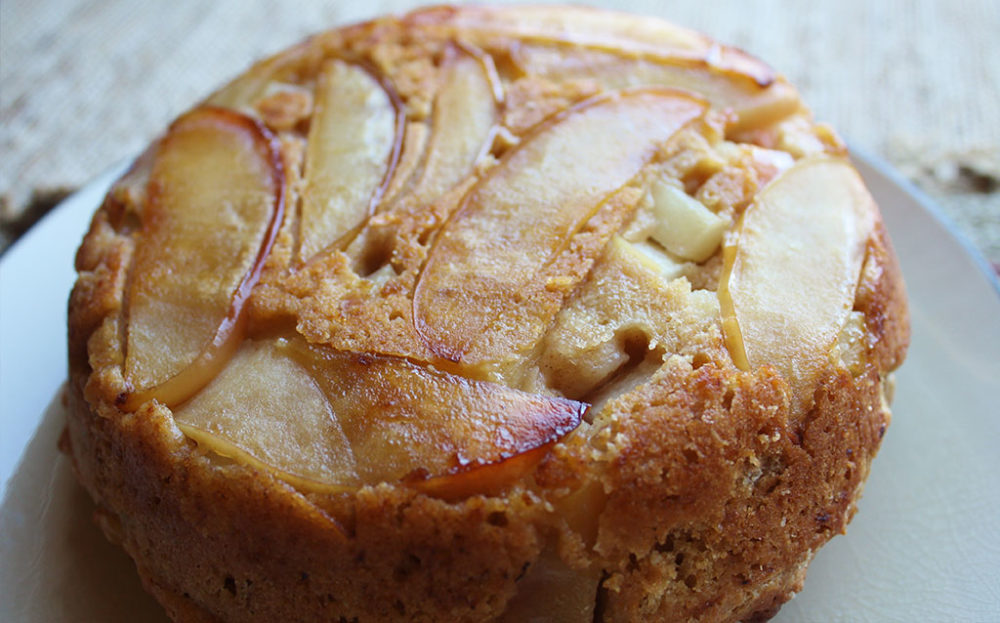 Recipe & Photography done by Megan Ameral