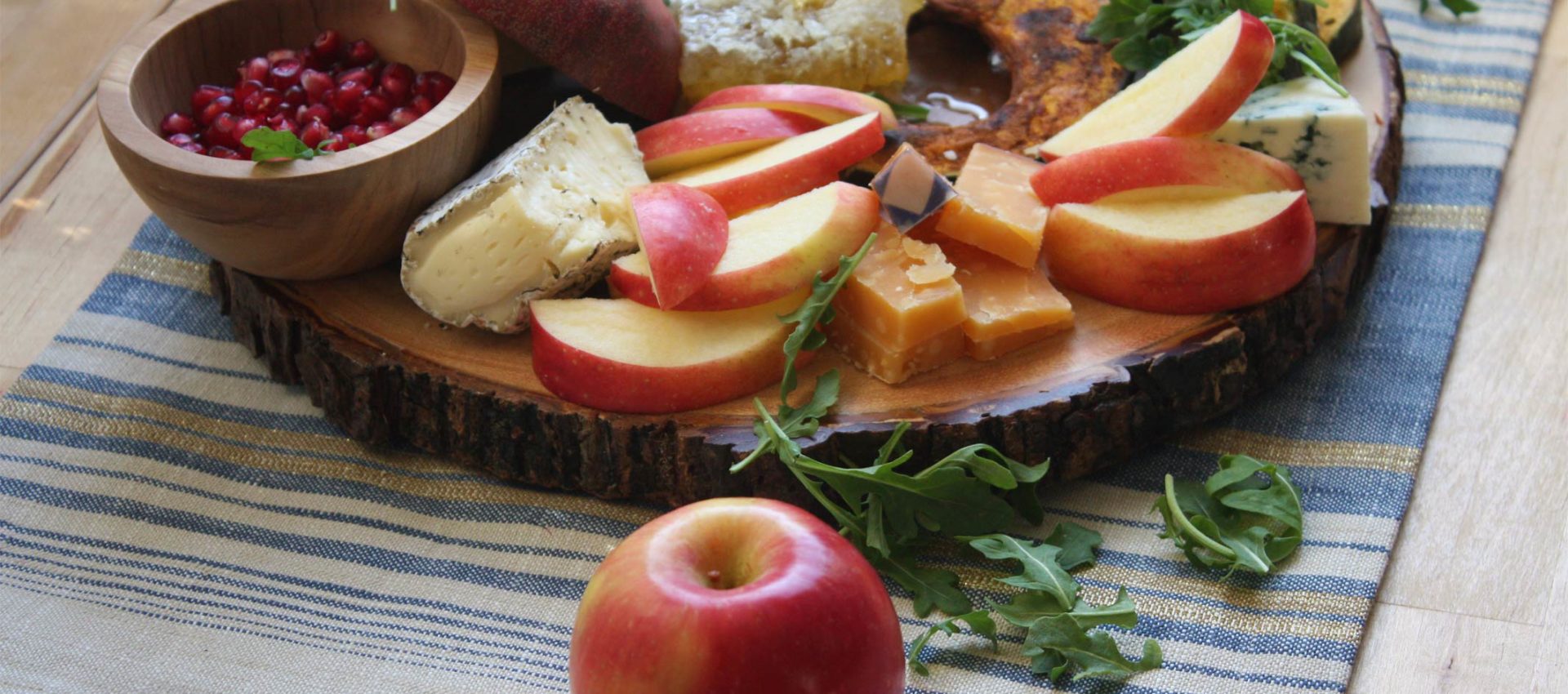 Harvest Pink Lady® Apple Cheese Board
September 12, 2017
Our harvest appropriate bountiful cheese board is the perfect warmth to accompany you to any autumn gathering with friends and family. Various aged cheeses with crystal textures, deep rich flavors and nutty aftertones polish this beautiful appetizer. Fall seasonal produce like pomegranate seeds, roasted kabocha squash and fresh arugula sprigs make this board unique. Sweet Pink Lady® Apple slices with candied pecan nuts add to the color and flavor of each bite! Take this rustic harvest board to any gathering or nest on a picnic blanket in your local park for lunch under a tree! Feel free to include your favorite cheese selections and make it different each time. Wine pairing is encouraged!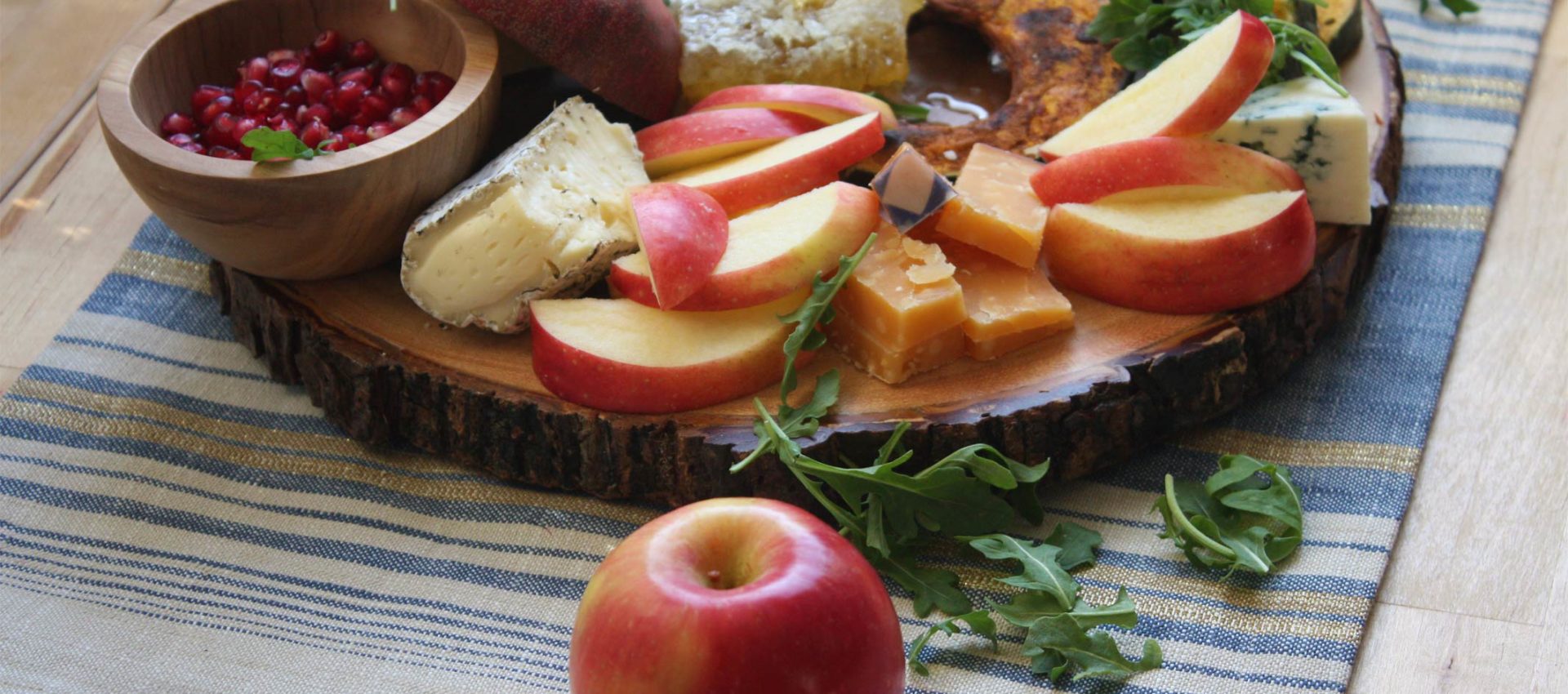 Ingredients
Cheese & Meat:
1 Cheeseland North Hollander Gouda
1 raw milk buttermilk blue cheese
1 Cypress G Midnight Moon Goat Cheese
1 Organic Cowgirl Creamery pierce Point Brie
Produce:
1 small Kabocha squash, roasted
Nuts and Grain:
Directions
Cheese & Meat:
1Place desired cheeses on board. Fit cheese to size of board,crumble various cheeses and save extra to add as board becomes scarce.
Produce:
1Slice pomegranate, save top. Spoon pomegranate seeds out of fruit into a small bowl. Preheat oven on roast at 450 degrees. Chop kabocha squash open, discard seeds. Chop into desired shape, add to a roasting pan. Drizzle coconut oil, massage into squash. Add sea salt and cinnamon to taste. Roast until golden brown with spots, about 20 minutes. Allow to cool. Arrange arugula sprigs onto board. Place honeycomb in middle of cheese board. Drizzle raw honey on small corners and on desired cheeses.
Nuts and Grain:
1Arrange candied pecan nuts and tiny almond toast slices.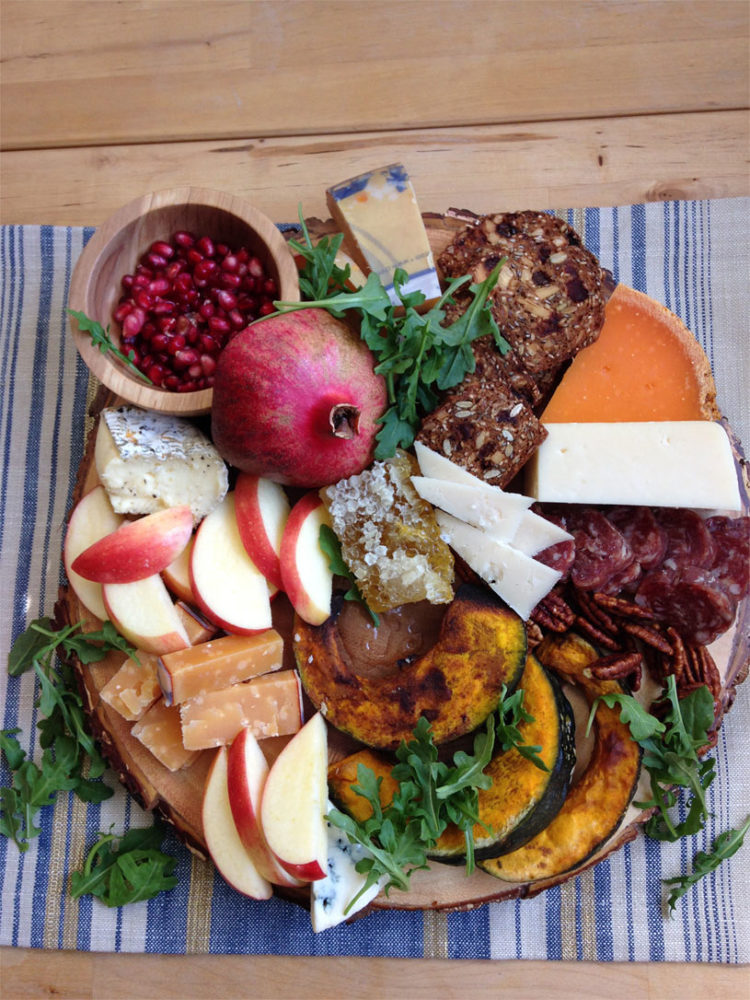 Recipe & Photography done by Megan Ameral