The trees are in bloom, the bees are hard at work, and the smell of spring is in the air. The Superfresh Growers® team joined Dave Gleason, Chief Horticulturist, in one of the newer Eastern Washington orchard blocks to learn about the latest orchard happenings.
The majority of cherries have passed full bloom, while most apples are just beginning, and apricots are in the final stages of bloom. "One of my favorite times of year is when the flowers are coming out," explains Gleason. "We hit full bloom when the maximum number of flowers are open. The aroma of the orchard is intoxicating. It's wonderful."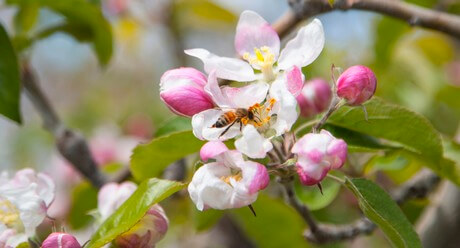 Now that the ground has thawed from winter, the orchard team is busy planning and prepping a new 150 acre block that will be the future site of red Honeycrisp, Cosmic Crisp apples, and other high flavor and high color varieties. Cosmic Crisp is the new Washington State exclusive apple that will be available on the consumer market in 2020. The apple variety is easy to grow, leans to a deep red color, stores well, and has a delicious crisp and juicy texture.
Goal is to remove ladders from the orchard
When planning a new orchard, Superfresh Growers has the opportunity to use the newest technology to create a labor efficient orchard. Robotic harvesting is on the horizon as a future option (as the technology develops). With the ultimate goal of completely removing ladders from the orchard, Superfresh Growers is investing in platforms and high density orchards. The rows of trees are planted with just enough room for a tractor/platform (about eleven feet). The platform can be used for everything ladders have been used for. "If our tree design is narrow enough, our employees can stand on the platforms and reach into the trees, reaching all sides of the tree just from one side. The platform can then roll through every other row, creating 50% labor savings and efficiency. We are looking at all possibilities to create the most efficient and labor friendly orchard," explains Gleason.
Spring is about ten days behind normal. Last year, the spring was earlier than normal, so bloom is about three weeks behind from last year. Superfresh Growers is aiming for cherry season to begin around June 12th this year. The apricot and cherry crop will be plentiful, with a harvest lasting well into late-summer for cherries.