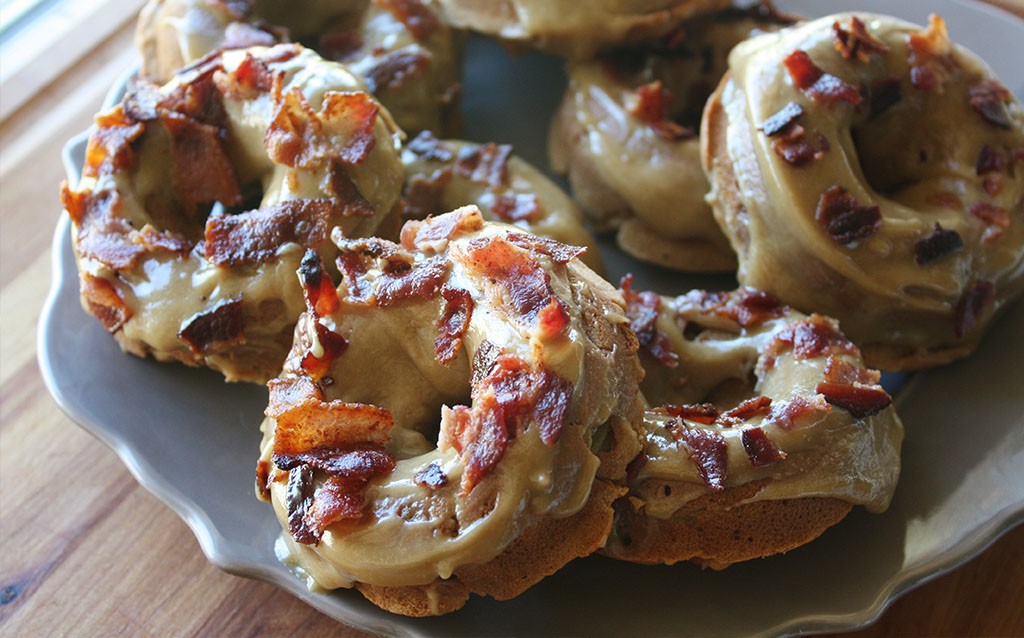 Pink Lady® Cinnamon Donuts with Maple Glazed Bacon
August 30, 2017
Salty, sweet and savory these rustic cinnamon donuts will make memories of Sunday mornings. Make breakfast inviting with our warm cinnamon cake donuts with crisp Pink Lady® Apple bites. Topped with a hearty and luxurious creamy maple glaze and crushed bacon pieces. Completely gluten free and dairy free, these donuts leave you with no guilt while feeling indulged. Our donuts are sure to become your weekend Sunday morning ritual. Write us or send a picture of your families Sunday morning with Pink Lady® Apple!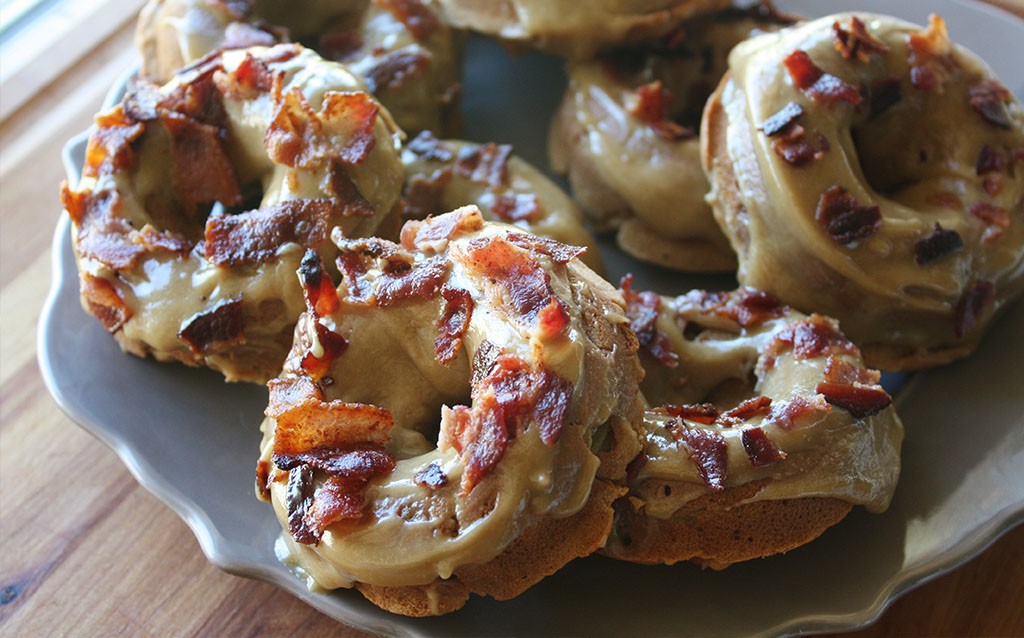 Ingredients
Cinnamon Donuts:
2 medium sized pink lady® apples, diced
2 cups all purpose gluten free flour
1/2 cup maple syrup, room temp
1/4 cup coconut oil, plus 1 tbsp to oil donuts pan, room temp
1 1/2 tsp tsp pure vanilla extract
Maple Bacon Glaze:
1/2 cup maple syrup, room temp
1/2 cup raw creamy cashew nut butter (any nut butter can be used), room temp
2 tbsp raw creamed coconut butter, room temp
Directions
1You will need: 1 donuts bake pan
2Preheat oven to 350 degrees. On medium to high heat warm up a stove top pan, once heated add bacon. Cook until crispy and place it on a plate with a paper towel to soak up excess oil. On a cutting board, dice up two Pink Lady® Apples. In a medium sized bowl, mix donuts dry ingredients. In another bowl, add donuts wet ingredients and mix well. In a standard mixing bowl or with a hand mixer add wet ingredients into the medium sized bowl of dry ingredients. Be careful not to over mix as gluten free flour can become gummy. Once mixed lightly, slowly fold in diced apple. To avoid sticking, drizzle coconut oil into donuts pan and well oil. Spoon in donuts mixture into the donuts pan, allowing space in the middle for the hole. Place into the oven for 12-15 minutes. Golden on top and soft in the middle is ideal. Place onto a cooling rack.
3In small bowl, mix maple syrup, nut butter and coconut butter until creamy. All three ingredients must be room temperature in order to keep perfect frosting like consistency. Fold in vanilla extract. The option is to add in bacon crumbles into the glaze or crumble on top of donuts after glazing. Once donuts have partially cooled, spoon glaze on top and crumble bacon. Eat warm or place into fridge for harden frosted donuts. Enjoy with a glass of cold milk or morning hot coffee!