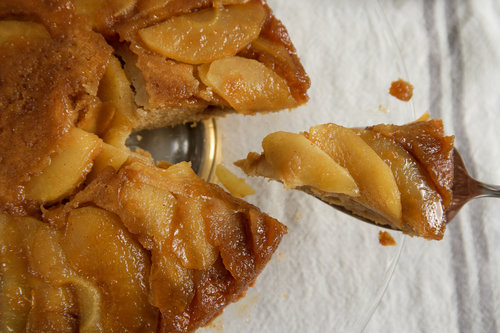 Cosmic Crisp® Upside Down Cake
June 7, 2017
Prep: 10 mins
Cook: 45 mins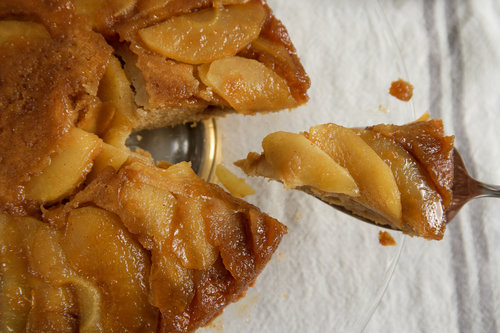 Ingredients
Apple Topping
Cake
1/2 cup unsalted butter (at room temperature)
2 large eggs (at room temperature)
1/2 cup milk (at room temperature)
1/2 cup oat flour (or use more all purpose flour)
Directions
1Preheat the oven to 325 degrees Fahrenheit and generously grease a 9-inch round cake pan.
2Peel and thinly slice the apples.
Topping:
1Heat the butter and brown sugar in a small saucepan over medium heat and bring to a gentle boil. Cook until the sugar dissolves and mixture has thickened slightly, about 5-10 minutes. Remove from heat and stir in the cinnamon and vanilla. Pour into the prepared cake pan and arrange the apple slices on top of the sugar mixture.
Cake:
1Sift together the flours, baking powder, salt and cinnamon in a medium bowl. In a mixer, beat the butter and sugar together until creamy. Add the eggs one at a time and beat to incorporate, scraping down the sides of the pan in-between. With the mixer on low speed, slowly add the milk and then the flour and mix just until incorporated, careful not to over mix. Pour cake batter over the apples and bake for 40-45 minutes, until the cake is golden brown and the center springs back when touched.
2Let the cake cool in the pan for 10 minutes. Run a knife around the edges of the pan to loosen the cake and invert it onto a plate. Tap the bottom of the cake pan before removing it and scrape out any remaining syrup onto the cake. Let cool completely. Serve at room temperature with vanilla ice cream or whipped cream. Store leftover cake in an airtight container at room temperature for one or two days.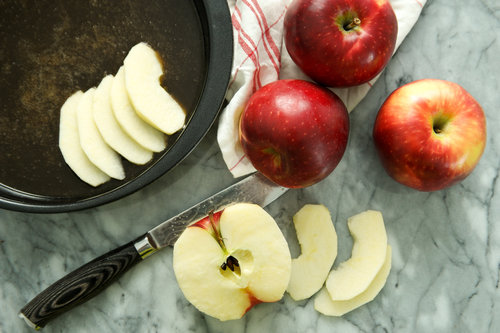 Recipe by Meg Raines, The Evolving Plate.