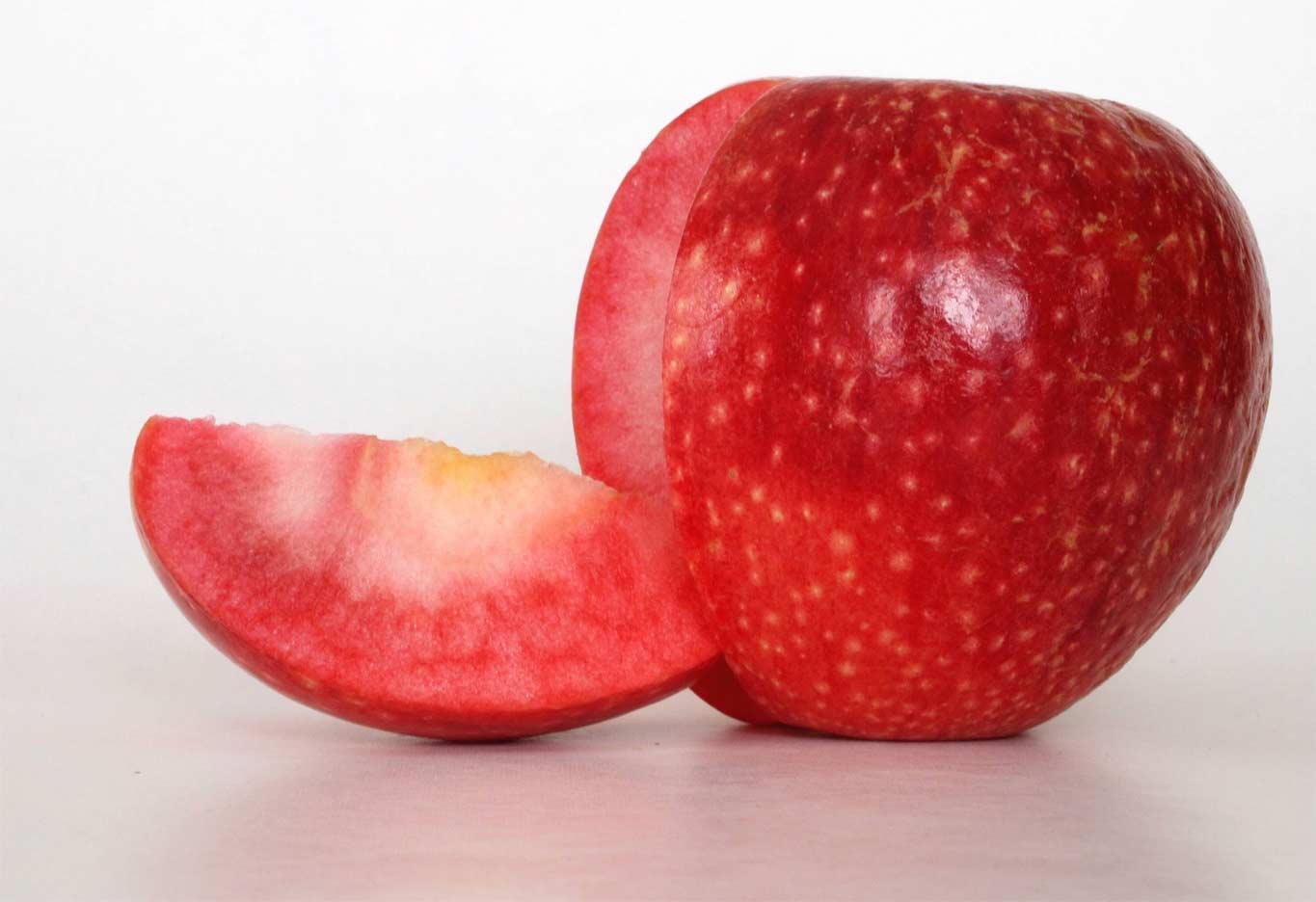 YAKIMA, Wash. – A tree fruit varieties management company in Yakima has announced an agreement with Stemilt Growers Inc., Wenatchee, and Chelan Fresh Marketing, Chelan, to commercialize red-flesh apples to be grown in Washington.
Proprietary Variety Management has tested two unnamed varieties of red-flesh apples developed by apple breeder Bill Howell, of Prosser, and found them to be of exceptional quality, said Lynnell Brandt, president of PVM and Brandt's Fruit Trees Inc., a Yakima nursery.
Howell is president of the Northwest Nursery Improvement Institute, an association of commercial tree fruit nurseries of which Brandt's Fruit Trees is a member.
Stemilt and Chelan Fresh will plant test blocks to evaluate the varieties horticulturally with an eye toward marketing them in a few years, Brandt said.
"We are very hopeful these will prove out horticulturally because they do eat extremely well," he said.
Per-capital apple consumption in the U.S. has been declining about 1 percent a year for 20 years.
The hope is that red-flesh apples of good quality and taste can reverse that trend by their novelty and because they have no oxidation, they don't brown when cut which would be attractive to the food service industry, Brandt said.
PVM approached Stemilt and Chelan Fresh and will work with them singularly but the agreement is historic in that it brings together two companies with decades of successful fruit industry experience with a common variety management partner, Brandt said.
PVM will work with each company in naming, trademark, marketing and promotional decisions, he said. Brandt's Fruit Trees will handle propagation.
The agreement is exclusive for certain varieties but does not mean that other companies in the state cannot develop other red-flesh varieties, Brandt said.
The effort, he said, is not part of Minnesota-based Next Big Thing Cooperative's work with 12 fruit marketers from 11 countries in a consortium called IFORED to bring red-flesh apples to market within five years.
Breeders have experimented with red-flesh apples for about 100 years. They derive from crab apples in central Asia. The challenge has always been to find selections of sufficient quality and flavor, Brandt said.
"We believe we have two that are very good of good sugar-acid balances and more complex taste than many apples on the market," Brandt said.
Stemilt Growers Inc. is the largest tree fruit company in Washington, involved in growing, packing, shipping and marketing apples, pears, cherries and other tree fruit. Chelan Fresh Marketing is one of the state's largest fruit marketers, selling fruit for Chelan Fruit Cooperative, Gebbers Farms and other companies.
Tom Riggan, general manager of Chelan Fresh, said red-flesh apples will have "tremendous" consumer appeal.
"Anything new, retailers and consumers are all over it," he said. "These have created a lot of excitement in produce departments where they've been sampled. They're a whole new category, like seedless watermelon."
Chelan Fruit Cooperative grows about 2,000 boxes of Pink Pearl, a red-fleshed Granny Smith, annually, but it is tart and not being planted on a large scale, Riggan said.
"A lot of red-flesh don't eat that well, but I've tried these two (of PVM) two years in a row and they eat very well. They've been consistent," he said.
Traditionally, nurseries have kept growers informed of new varieties. PVM was formed in 2012 to expand that into aiding growers in commercializing and marketing new varieties. It is affiliated with the Associated International Group of Nurseries, founded by Brandt 25 years ago and of which he is president. AIGN has 11 members in Europe, South Africa, Chile, Argentina, Uruguay, New Zealand, Australia, China and South Korea.
Article by Dan Wheat, Capital Press